Honoree
Lawrence D. Glaubinger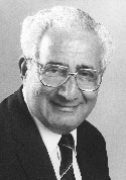 AWARDS
Distinguished Alumni Service Award (1997)

B.S., 1949; LL.D., 1993

Honorary Degree (1993)

LL.D.
Doctor of Laws
Commencement
Location: Bloomington
Presenter: Thomas Ehrlich

Kelley School of Business Academy of Alumni Fellows (1992)

Indiana University Bloomington
Kelley School of Business
B.S., 1949; L.L.D., 1993

BIOGRAPHY
Lawrence D. Glaubinger, chairman and chief executive officer of Stern and Stern Industries and president of Lawrence Economic Consulting, is a leader in the textile industry, a noted philanthropist, and an active supporter of business education. Mr. Glaubinger was born in Newark, New Jersey, in 1925 and graduated with honors from Indiana University in 1949 with a B.S. in accounting. After working for two textile firms, he founded the Channel Textile Company in 1966 and served as president and chief executive officer until he sold the company in 1975.
In 1977 he received an M.B.A. from Columbia University. That same year, while beginning work on a Ph.D. at Columbia, he accepted the chairmanship of Stern and Stern. This company has become a leader in the field of exotic industrial textiles, many of which have been essential to the U.S. space program. At the present time, Stern and Stern is very much involved with the air bag automobile safety movement. Mr. Glaubinger has maintained exceptionally close relations with Indiana University over the years. Jack Wentworth, dean of the School of Business, considers him "one of the strongest supporters of higher education I have known." Mr. Glaubinger's strong ties with the School of Business are evidenced by his service on the Dean's Advisory Council and the Board of Overseers of the Center for Entrepreneurship and Innovation. A board member of the IU Foundation, Mr. Glaubinger is a member of the Student Foundation Committee and the Investment Committee, and serves as chair of the Committee on University Wide Major Gifts. He is a member of the Well House Society, a Life Member of the IU Alumni Association, and a member of the Hoosier Hundred of the Varsity Club.
Indiana University and its School of Business have benefited from Mr. Glaubinger's philanthropy. He has funded a Professorship in Entrepreneurship in memory of his parents Samuel and Pauline, provided financial support for the Center for Entrepreneurship, and is currently funding the Glaubinger Chair for Undergraduate Leadership. He has underwritten several programs and seminars at the School of Business, including the Director Placement Program and the popular Entrepreneurial Speaker Series. Mr. Glaubinger has also established an athletic (basketball) scholarship in memory of his brother Norman.
Mr. Glaubinger serves on the Board of Overseers of Columbia University Graduate School of Business. He is a director of Leucadia National Corporation, Transportation Capital Corporation, and several other companies. In recognition of his achievements in the profession of business, Mr. Glaubinger was named to the Academy of Alumni Fellows in 1992.