Honoree
George Ortman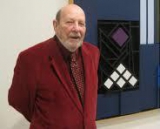 AWARDS
Thomas Hart Benton Mural Medallion (2014)

Musical Arts Center dinner
Location: Bloomington
Presenter: Michael A. McRobbie

President's Medal for Excellence (2014)
BIOGRAPHY
George Ortman is an American painter, printmaker, sculptor and constructionist whose work has been exhibited at the Museum of Modern Art, the Whitney Museum, the Solomon R. Guggenheim Museum, the National Gallery of Art, the Indianapolis Museum of Art and numerous other galleries.
Ortman's constructions, referred to as Neo-Dada, Pop Art, Minimalism and Hard Edge, explore visual language derived from geometry. Originally from Oakland, Calif., Ortman began studying at the California College of Arts and Crafts after serving in the U.S. Navy. He later studied at Atelier 17 and the Hans Hofmann School of Fine Arts in New York and Atelier Lhote in Paris.
He has been a professor of the Cranbrook Academy of Art in Detroit, Princeton University, the School of Visual Arts in New York and New York University. He is an elected member of the National Academy of Design and has received the Lee Krasner Award for Lifetime Achievement and other honors.