Honoree
Jane Chu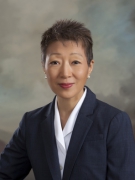 AWARDS
Lilly Family School of Philanthropy Distinguished Alumni Award (2017)
President's Medal for Excellence (2014)

Winter Commencement Ceremony
Location: Bloomington
Presenter: Michael A. McRobbie

BIOGRAPHY
Jane Chu is the 11th chair of the National Endowment for the Arts. Chu assumed this role in June after serving eight years as the president and CEO of the Kauffman Center for the Performing Arts in Kansas City, Missouri.
Chu received a doctorate in philanthropic studies from IU's Lilly Family School of Philanthropy at Indiana University-Purdue University Indianapolis. Before studying at IU, Chu received bachelor's degrees in piano performance and music education from Ouachita Baptist University, and master's degrees in music and piano pedagogy from Southern Methodist University. She also holds a master's degree in business administration from Rockhurst University and an honorary doctorate in music from the University of Missouri-Kansas City Conservatory of Music and Dance.
During her career, Chu has served as a trustee at William Jewell College and was a member of the board of directors at the Ewing Marion Kauffman School and the Greater Kansas City Chamber of Commerce. From 1997 to 2002, she was the vice president of community investment for the Greater Kansas City Community Foundation, and shortly thereafter, she served as vice president of external relations at Union Station Kansas City until 2004. Chu was also a fund executive at the Kauffman Fund for Kansas City.
As president and CEO of the Kauffman Center for the Performing Arts, beginning in 2006, she oversaw a $414 million project to build the center, which is now home to the Kansas City Ballet, Kansas City Symphony and Lyric Opera of Kansas City. The center has hosted more than 1 million people from all 50 states and various countries throughout the world since its opening in September 2011.