Honoree
Yoshito Kawahara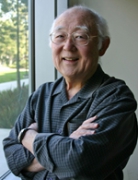 AWARDS
Distinguished Asian/Pacific American Alumni Award (2007)
BIOGRAPHY
Yoshito Kawahara, a professor and chair of the Department of Behavior Sciences at San Diego Mesa College, earned a doctorate in physiological psychology from IU in 1978. He is also co-director of the Bridges to the Baccalaureate program at Mesa College, an initatiave to help underrepresented students funded by the National Institutes of Health.
Despite the fact that Kawahara's family had settled in the United States back in the 1880s, they were among the 120,000 people who were forcibly relocated to internment camps after Pearl Harbor was attacked in December 1941. His family was incarcerated in the Heart Mountain, Wyo., camp with 10,000 others. After the camps closed down in 1945, Kawahara moved to "a destitute area" of downtown Los Angeles, which was all that many Japanese Americans could afford at that time, after having suffered financial and property losses.
Kawahara later went to San Francisco State University as an undergraduate and studied neurosciences and learning theory. For graduate school, he studied at IU. Gabe Frommer, IU professor emeritus of psychology, was his academic advisor, and William Timberlake, professor of psychology, was Kawahara's professor.
In the late 1970s, he became a member of the Asian American Psychological Association (AAPA). The membership has worked hard to identify the needs, improve the understanding and develop the strategies to best guide members of Asian American communities. In 1975, he started teaching at San Diego Mesa College after having been on the faculty at York College in the City University of New York.
From 1991 to 2007, he has held several offices in the AAPA, including membership officer, finance officer, editor of the association newsletter and vice president. He twice has been awarded the Distinguished Contributions Award and has the rank of Fellow in AAPA. He is active in the Union of Pan Asian Communities in San Diego -- an umbrella organization that oversees many community-based agencies. He also works as a community liaison for Mesa College.