Honoree
Sau-ling Cynthia Wong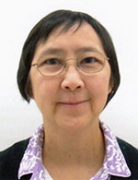 AWARDS
Distinguished Asian/Pacific American Alumni Award (2010)
BIOGRAPHY
Sau-ling Cynthia Wong, has become a pioneer in Asian American Studies since graduating summa cum laude from IU in 1970, with degrees in English and American literature. She also was a member of Phi Beta Kappa at IU. She went on to earn degrees at Stanford University and San Francisco State University.
Writing on a broad range of subjects with a focus on immigrant experience, autobiography and language education, Wong has had a dual focus on literature and language. Her work has placed Asian America within an inclusive vision of cultural diversity in the United States. She also has oriented Asian American studies toward issues of trans-nationalism and globalization.
Her field-defining 1993 study, Reading Asian American Literature: From Necessity to Extravagance, was hailed as "the first comprehensive theoretical praxis for Asian American literature" since scholar Elaine Kim published her ground-breaking work in 1982. The book won the 1994 Outstanding Book Award in Cultural Studies given by the Association for Asian American Studies and was translated into Chinese in 2007.
Two of her essays -- "Necessity and Extravagance in Maxine Hong Kingston's The Woman Warrior" and "Middle-Class Asian American Women in a Global Frame: Refigurations of the Statue of Liberty in Two Late Twentieth-Century Texts" -- won the MELUS best Essay of the Year Awards in 1992 and 2005.
Her co-edited volume, Language Diversity: Problem or Resource (1988), focused on Asian and Latino immigrants' native languages as cultural resources at a time when educators were focusing on immigrant language deficits. AsianAmerica.net: Ethnicity, Nationalism, Cyberspace (2003), a co-edited interdisciplinary volume, provides a timely mapping of Asian America's virtual communities and politics.