Honoree
Eugene Eoyang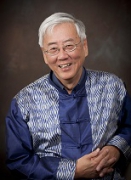 AWARDS
Distinguished Asian/Pacific American Alumni Award (2012)
BIOGRAPHY
Eugene Eoyang is an author and retired professor from Indiana University and Lingnan University in Hong Kong. Since retiring from IU in 2003, Eoyang has remained active, teaching English at Lingnan University until 2008 and conducting workshops in translation at Hong Kong Baptist University each fall since then. He also undertook several book projects. In addition to his most recent book, he is working on books about the teaching of English, on higher education and on the concept of the self.
Eoyang also is the author of "The Transparent Eye: Reflections on Translation, Chinese Literature, and Comparative Poetics" (University of Hawaii Press, 1993), "Coat of Many Colors: Reflections on Diversity by a Minority of One" (Beacon Press, 1995), "'Borrowed Plumage': Polemical Essays on Translation" (Rodopi, 2003) and "Two-Way Mirrors: Cross-Cultural Studies on Glocalization" (Lexington Books, 2007). He also published an illustrated book written for his grandchildren, "The Smile of a Crocodile: Rhymes for Chloe (and Kyle)" (CreateSpace, 2007). He also was co-editor of "Translating Chinese Literature" (Indiana University Press, 1995) and the editor and principal translator of "Selected Poems of Ai Qing" (Foreign Languages Press, Beijing; IU Press, 1982).
A vice president of the American Comparative Literature Association from 1993 to 1995, he became the association's president from 1995 to 1997. In 1993, in honor of a senior colleague, he founded and initially funded the Horst Frenz Prize at the American Comparative Literature Association conferences for the best presentation by a graduate student. He convenes the judges for each year's prize.
Eoyang also was co-founder of the journal Chinese Literature: Essays, Articles, Reviews and one of its co-editors for 20 years. He was vice president of the Fédération Internationale des Langues et Littératures Modernes and chaired the Intercultural Studies Committee of the International Comparative Literature Association. He is a fellow of the Royal Society for the Encouragement of Arts, Manufactures and Commerce in London.
Eoyang founded the East Asian Summer Language Institute at IU, which he directed for five years. He also served as associate dean of research and graduate development and the founding editor of Research and Creative Activity. He was a member of the board of trustees of the Kinsey Institute for Research on Sex, Gender and Reproduction, acting as its chair from 1993 to 1995.