Honoree
George Woo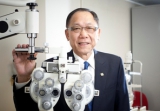 AWARDS
Distinguished Asian/Pacific American Alumni Award (2015)
BIOGRAPHY
George Woo came to IU to as a graduate student to conduct research on vision science, receiving a Master of Science degree in 1968 and a Ph.D. in 1970 at the School of Optometry. His interest in studying the field of optometry led him to expand his academic career over the span of 40 years.
He became a professor and administrator at the University of Waterloo, positions he kept until 1987 when he accepted a joint-appointment as head of diagnostic sciences at the Hong Kong Polytechnic University. He later became director of the China Ophthalmic Education Program and dean of its optometry program between 1997 and 2004, and then again from 2008 to 2011.
Today, Woo is professor emeritus at Hong Kong Polytechnic University. He has published more than 170 journal articles.