Honoree
Allison Chopra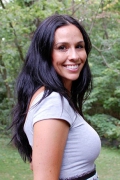 AWARDS
Bicentennial Medal (2019)
School of Public Health Early Career Outstanding Alumni Award (2012)
BIOGRAPHY
Allison Chopra is the owner of Urban Fitness Studio, LLC, a private personal training studio in Bloomington. Her business opened in August 2008 and has experienced growth each year since that time during a period of a challenging economy.
The vision for Urban Fitness Studio is to connect with non-exercisers in an inviting, non-intimidating environment, with a focus on exercise as a means to physical and mental health. Currently, she and four other staff trainers (all of which are IU School of Public Health graduates) work with clients to find health and longevity through fitness. She also opened Urban Cycle Studio in the fall of 2011 - a dedicated spinning studio.
Both Urban Cycle and Urban Fitness are involved with the City of Bloomington's Adopt-a-Trail program aimed at maintaining the B-Line trail. The studios are sponsors in the Little 500, Mag 7 Race Series Event and the IU Mini Marathon. In addition to being an entrepreneur, Allison is a board member on the City of Bloomington's Urban Enterprise Association and an avid IU Varsity Club supporter.
In her spare time, she enjoys racing in 5K road races and spending time with her husband Christopher and two young sons. Her ability to combine entrepreneurial drive with her passion toward exercise and fitness, makes her a fitting recipient of the School of Public Health's first ever Early Career Outstanding Alumni Award.