Honoree
Rose Mays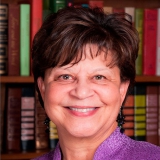 AWARDS
Bicentennial Medal (2019)
Presidents Circle Laurel Pin (2018)

Benefactor

Distinguished Alumni Service Award (2018)

Indiana University Bloomington
M.S.N., 1974

President's Medal for Excellence (2015)

IUPUI Spirit of Philanthropy Luncheon
Location: Indianapolis, Indiana
Presenter: Michael A. McRobbie

IUPUI Maynard K. Hine Medal (2015)

Indiana University Purdue University Indianapolis (IUPUI)
M.S.N., 1974

IUPUI Spirit of Philanthropy Award (2009)
BIOGRAPHY
The relationship that Rose Mays and her husband William had with Indiana University runs long and deep. Both graduates -- Bill earned his bachelor's degree in chemistry in 1970 and a master's in business administration in 1973, and Rose obtained her master's degree and Pediatric Nurse Practitioner Certificate in 1974 -- they have touched virtually every aspect of IU's educational mission through their involvement, passion and generosity.
From 1973 until her retirement, Mays specialized in teaching pediatric nursing. For eight years, she served as the school's associate dean for community and international affairs and implemented a program of research and community service focused on health promotion and disease prevention for vulnerable adolescents. In 2003, she was elected to the American Academy of Nursing for her achievements in establishing community programs that served homeless youth and teen mothers. Rose is a professor emerita at the IU School of Nursing at IUPUI and former associate dean for community and international affairs. In 2012, she was elected to the IU Foundation Board of Directors.
Rose's involvement also extends to the IU Alumni Association, where she is a lifetime member of the Central Indiana Chapter, as well as a lifetime member of the Woodburn Guild and a member of Hoosiers for Higher Education. She is also a member of the IU Foundation President's Circle, IU Foundation Well House Society, 1820 Society and IUPUI Chancellor's Circle; an honored donor of the De Vault Alumni Center; and a friend of The Kinsey Institute.
The Mayses' philosophy has been to give broadly in an attempt to strengthen the entire university community. Students across a wide range of disciplines on multiple campuses, including IU Bloomington, Indiana University-Purdue University Indianapolis and IU Southeast, have Rose and Bill to thank for helping them attain their dream of a college education.
Though they have literally supported hundreds of programs, the Mayses have generously supported the IU Kelley School of Business in both Bloomington and Indianapolis and the IU School of Nursing, where they funded scholarships, fellowships, professorships, lectureships and research aimed at improving diversity. They also established several endowments that promoted diversity including the Joy J. Mays Endowment Scholarship School of Education, the Theodore C. Mays Chemistry Fellowship and the Rose M. Mays Excellence in Teaching Diversity Fund at the IU School of Nursing.
Additionally, the Mayses established several RISE (research, international, service learning, experiential learning) Scholarships at IUPUI for men and women in business, nursing and public health, and were among the founding donors for the IU School of Diversity School of Dentistry Diversity Scholarships.