Honoree
Lloyd G. Balfour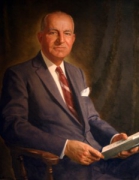 AWARDS
Honorary Degree (1966)

LL.D.
Doctor of Laws
School of Business Building Dedication
Location: Bloomington
Presenter: Elvis J. Stahr

Z.G. Clevenger Award (1963)

L.L.B., 1907; L.L.D, 1966; J.D., 1967

Distinguished Alumni Service Award (1959)

L.L.B., 1907; L.L.D, 1966; J.D., 1967

BIOGRAPHY
Lloyd Garfield Balfour was one of the most generous Hoosier stars and a distinguished leader in business. After earning a law degree, Balfour decided to go on the road selling fraternity jewelry. Five years later, he started his own small company in Massachusetts and built it into the number one manufacturer of fine jewelry in the world.
At IU, he funded the Balfour Awards, plaques given annually since 1929 to one person in each Hoosier varsity sport for outstanding performance and conduct. Balfour was a loyal supporter of the work of the IU Foundation, and devoted himself generously to the growth and effectiveness of that organization.
He lettered two years in football and baseball, and said his biggest collegiate thrill came at Purdue in his last baseball game, when young coach Zora Clevenger surprised the Boilermakers by starting freshman pitcher Tate Siebenthal, who threw a two-hit shutout. It was IU's first conference baseball victory.