Honoree
Greg Goodnight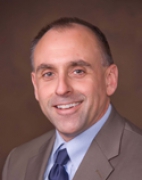 AWARDS
Bicentennial Medal (2019)
IUK Chancellor's Medallion (2013)

IUK Chancellor's Medallion
Location: Kokomo

BIOGRAPHY
Greg Goodnight is a native of Kokomo Indiana and has served as the city's mayor since January 2008. During his time in office, he and his administration have sought to create a sustainable yet growing economy, promote innovation, efficiency, and improve overall quality of life for the citizens of Kokomo. These efforts have resulted in many tangible improvements to the Kokomo community including, but not limited to; a fixed-route city bus system, novel economic development programs tied to incentives, a program to revitalize the downtown district, attracted new businesses and jobs to the area, and accrued $650 million dollars in new investments in the city from local businesses.
Mayor Goodnight has been recognized as a leader by his peers and political pundits. He has shared his experiences while speaking to the Yale University School of Management, been interviewed by various national media outlets, and is featured in the book "At the Crossroads: Middle America and the Battle to Save the Car Industry". The book, in part, outlines how his leadership has helped navigate Kokomo through the rough waters of a transitioning economy.
Before serving as mayor, he was a City Councilman, a member of the Planning Commission, and served on the Center Township Trustee Board. Mayor Goodnight graduated from Hawthorn High School and is now further his education at Indiana University Kokomo.