Honoree
Dave Allard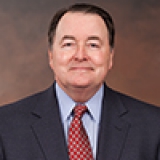 AWARDS
Bicentennial Medal (2019)
IUN Chancellor's Medallion (2014)

IUN Chancellor's Medallion
Location: Gary, Indiana

BIOGRAPHY
For nearly 45 years, Dave and Louise Allard, of Olympia Fields, Ill., have been devoted Indiana University alumni. Dave, a Bloomington graduate, and Louise, a Northwest graduate, are exceptionally loyal Varsity Club members and active IU Alumni Association members. Additionally, they are especially generous both financially and with their time to IU Northwest.
Thanks, in great part to Louise's father, former Mayor of Gary Peter Mandich, the IU Northwest campus's current Glen Park location was realized. In 1955, Mayor Mandich appropriated 27 acres of Gleason Park for the campus.
As a way to remember Mayor Mandich's lasting legacy and significant contribution to the campus, the Allards donated the "Ballast" sculpture to the campus's Shadows and Echoes Sculpture garden.
Dave was a member of the IU Northwest Chancellor's Society for 14 years, and is currently a member of the IU Northwest Board of Advisors.