Honoree
Sylvia M. Collins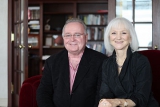 AWARDS
Bicentennial Medal (2019)
IUN Chancellor's Medallion (2014)

IUN Chancellor's Medallion
Location: Gary, Indiana

BIOGRAPHY
Tom and Sylvia Collins are residents and active community volunteers for their hometown of Gary, Ind. Sylvia, a proud IU alumna, earned a B.S. in elementary education from IU Bloomington and her M.S. in elementary education from Indiana University-Purdue University Indianapolis. Sylvia taught for 23 years in the Miller Beach, Portage and Indianapolis school systems.
Tom joined the Chicago-based real estate firm, Hiffman Shaffer Associates, Inc. in 1985 and, in 1993, was named President and Chief Operating Officer. He is co-founder of Reliant Group, Ltd. and Clark Street Development, and owner of Collins Interests, Ltd.
Sylvia and Tom have been involved with IU Northwest in various capacities, such as endowed scholarship donors, and members of the Chancellor's Society, the Chancellor's Commission on Engagement and the Board of Advisors. They have given endlessly to the future of our students.
They are also committed to IU as members of the 1820 Society, and the IU Foundation President's Circle, to name a few.