Honoree
Gerald Paul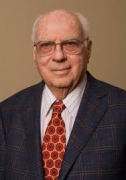 AWARDS
Presidents Circle Laurel Pin (2016)

Benefactor

IUPUI Spirit of Philanthropy Award (2011)
BIOGRAPHY
Gerald Paul was born on 28 September 1924 in Witten, Germany where he lived with his mother and father, Leopold and Selina Paul. Gerald Paul faced many challenges growing up a Jewish child in the 1930s Germany. When life for German Jews became increasingly difficult, Paul's family moved to Indianapolis, Indiana because his father had family there.
During his teens, Paul began working at The Real Silk Company, which was run by his father's cousin. His natural skills in customer service and the retail clothing business ushered him to sales and management at Real Silk. While in management, Paul introduced innovations that expanded the company's profits and built his business expertise. Meanwhile, he attended Butler University and the Indiana University extension in Indianapolis.
In 1954, Paul and Earl Harris opened the first Paul Harris store in Plainfield, Indiana. The store was successful and the two soon opened new stores throughout the Midwest. Paul helped to revolutionize clothing retail by creating a Paul Harris line of clothing and collaborating with Chinese companies to make Paul Harris designs for a reasonable price. When the Paul Harris consumer base expanded, Paul created the Pasta store line, which carried casual styles. In the 1980s, Paul innovated again by creating the $5-$10-$15-$20 Place stores, which sold Paul Harris and other lines for a discounted price. Paul guided the company through two major crises. The first was a 1978 tornado that destroyed the Paul Harris distribution center and stalled the retailer's product flow. The second was in 1991, when the company was forced to declare Chapter 11 Bankruptcy. With Paul's leadership, the company overcame the crisis, and returned to its former success. Paul retired as CEO in 1995, but remained on the Paul Harris Board as chairman emeritus.
After his retirement, Paul focused on philanthropic and civic activities. Gerald and his wife, Dorit, are supporters of the Children's Museum, Indiana Historical Society, and Dance Kaleidoscope, among other organizations. IUPUI Herron School of Art and the Eiteljorg Museum of Western Art and the American Indian both named galleries in honor of Dorit and Gerald Paul for their continual support of each institution. The couple established the Dorit and Gerald Paul Program for the Study of Germans and Jews at the Robert A and Sandra S. Borns Jewish Study Program at Indiana University. The program aims to foster scholarly ties between Indiana University faculty members researching the relationships between Germans and Jews and scholars in Germany and elsewhere who are engaged in similar research. In this connection, the Paul Program sponsors a biennial lecture series on relevant aspects of this subject. The couple has also avidly supported the Indianapolis art community, which led them to give the IU Herron School of Art and Design an estate gift that would endow a gallery in their name. The gift includes 16 pieces from their own art collection, including works by Willem De Kooning, Betty Woodman, Frank Stella and Jackson Pollock.