Honoree
Dorit Paul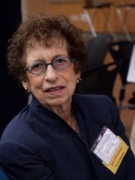 AWARDS
Presidents Circle Laurel Pin (2016)

Benefactor

IUPUI Spirit of Philanthropy Award (2011)
IUPUI Spirit of Philanthropy Award (1990)
BIOGRAPHY
Dorit Paul was born in Mannheim, Germany to Bertha and Rudolph Ludwig Selig. In response to Hitler's anti-Semitic campaign, her family moved to Switzerland and then to New York City in 1938. She attended public school until transferring to a private high school where she enjoyed studying history, math, English literature, and biology. She attended Radcliffe College and continued on to Columbia University to complete graduate studies in English Literature.
After meeting him on a blind date, she married Gerald Paul in 1954 and moved to Indianapolis, Indiana. Gerald was the co-founder of Paul Harris Stores, a women's retail store. Paul frequently helped her husband with the business during his time at the helm. Beyond Paul Harris, Paul has made a lifelong commitment to volunteerism. Her experiences include providing books for the patients at Central State Hospital, being a docent for the Indianapolis Museum of Art, and serving as a member on myriad local boards, such as the Greater Indianapolis Jewish Federation, Indianapolis Early Music, Indianapolis Opera, and Phoenix Theatre.
Dorit and Gerald have been committed benefactors of arts and education programs. They are supporters of the Children's Museum, Indiana Historical Society, and Dance Kaleidoscope, among other organizations. IUPUI Herron School of Art and the Eiteljorg Museum of Western Art and the American Indian both named galleries in honor of Dorit and Gerald Paul for their continual support of each institution. The couple established the Dorit and Gerald Paul Program for the Study of Germans and Jews at the Robert A and Sandra S. Borns Jewish Study Program at Indiana University. The program aims to foster scholarly ties between Indiana University faculty members researching the relationships between Germans and Jews and scholars in Germany and elsewhere who are engaged in similar research. In this connection, the Paul Program sponsors a biennial lecture series on relevant aspects of this subject. The couple has also avidly supported the Indianapolis art community, which led them to give the IU Herron School of Art and Design an estate gift that would endow a gallery in their name. The gift includes 16 pieces from their own art collection, including works by Willem De Kooning, Betty Woodman, Frank Stella and Jackson Pollock.