Honoree
Mark Leonard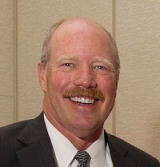 AWARDS
Bicentennial Medal (2019)
Partners in Philanthropy (2015)

Cornerstone Award

BIOGRAPHY
Mark S. Leonard grew up in central Indiana. He came to Indiana University as a pre-medicine major, but found his passion in astrophysics, which he took as part of his pre-med curriculum. He graduated with a Bachelor of Science in Astrophysics in 1977. At the time, however, employment opportunities in astrophysics were scarce and on the advice of a friend, Leonard went back to IU to study geological sciences. With his math and physics background the transition proved easy, and he found a second passion in geology. He graduated with his master's in geology in 1979.
Upon graduating, Leonard joined Shell Oil Company, where he held a number of executive positions that culminated in his role as Senior Vice President of Exploration and Production in 2007. He then retired from Shell and went on to start his own consulting company, Leonard Exploration, Inc, where he can use his 28-year wealth of experience as a geoscientist to help other organizations and individuals.
Grateful for the opportunities he had at IU, Leonard served on the IU Geological Sciences Alumni Advisory Board from 2001 to 2010 and currently sits on the College Executive Dean's Advisory Board. He has given generously to the university by establishing a fund to spur undergraduate interest in astronomy. He also helped solidify the future of IU's Judson Mead Geologic Field Station in Montana by spearheading and exceeding the $3 million campaign goal. In the final year of the campaign, he helped oversee the construction of a new classroom building and a reorganization of the staffing and structure of the summer field program. He followed that generous contribution by offering to serve as the director of the field station for one year. During that year, an unfortunate forest fire in the mountains threatened the refurbished station. With years of leadership experience under his belt, Leonard quickly took charge in the crisis, opening the field station to forest firefighters to use as a base camp and organizing an alternative location for IU students to complete their field course.
In recognition of his dedication and service to the school. IU named Mark Leonard one of its 2015 Partners in Philanthropy. He received the Cornerstone Award, which recognizes individuals whose partnership and volunteer involvement have been instrumental in the success of a single IU philanthropic initiative for a campus, program or school.