Honoree
Barbara S. Wynne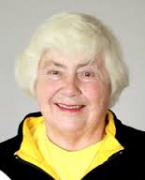 AWARDS
Presidents Circle Laurel Pin (2016)

Benefactor

IUPUI Spirit of Philanthropy Award (2001)
BIOGRAPHY
Barbara Wynne graduated from Northwestern's School of Education and Social Policy in 1955. A tennis player since age 10, Wynne played one year for Northwestern before deciding to focus on her studies to become a teacher and coach. After graduating, she settled in Indianapolis and began teaching neighborhood kids to play tennis.
Realizing that, aside from her own courts, the young athletes had nowhere to practice, Wynne began a lifelong rally for the expansion of local tennis facilities. Her efforts weren't intended merely to improve students' backhands and serves, but to allow young people a space to grow personally, to cultivate lifelong friendships, and to engage with players from all corners of the community. Wynne petitioned the Indianapolis city council on behalf of the budding tennis players, and within a few years, she had officially established the Washington Township Schools Community Tennis Program. The program prompted the refurbishment of the high school's six courts and the construction of twenty-seven new ones. There are now forty-four courts in the area, and the program has served more that 24,000 citizens in its lifespan.
The International Tennis Hall of Fame has awarded her the Educational Merit Award in recognition of her tireless work to bring the joy of the sport to so many. She received the International Tennis Federation's Service to Tennis Award in 2001. In 2003, Washington Township finished construction on a multi-million dollar renovation project on the community tennis center. The facility was named the Barbara S. Wynne Tennis Center in honor of its founder's tireless advocacy.
Wynne has directed much of her enthusiasm for teaching toward tennis, but she has also spent tremendous time and energy on Indy's Child, a free parenting magazine for the greater Indianapolis area. Since founding the magazine in 1984, she consistently penned the publisher's note and contributed columns.