Honoree
Cindy Hmelo-Silver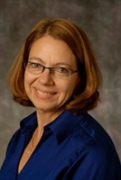 AWARDS
Titled Professor (2015)

Barbara B. Jacobs Chair of Education
Indiana University Bloomington
School of Education
Department of Counseling and Educational Psychology

BIOGRAPHY
Cindy Hmelo-Silver is a professor of Learning Sciences and director of the Center for Research on Learning and Technology at the IU School of Education. Before coming to IU, Hmelo-Silver was chair of the Department of Educational Psychology at Rutgers University, where she had been a professor since 1998.
Hmelo-Silver's research focuses on how people learn about complex phenomena and how technology can help support that learning. As part of this work, she studies problem-based learning, collaborative knowledge construction, and computer supported collaborative learning. She study the role of technology to support social knowledge construction and collaborative learning and problem-solving. Hmelo-Silver's research investigates scaffolded support for problem-based learning, the use of video for learning, and complex systems understanding. Her current projects include a research synthesis of computer-supported collaborative learning, an international collaboration for technology-supported collaborative learning, collaborative modeling by citizen scientists, and how students learn through creating multimedia artifacts using a video repository.
Hmelo-Silver is a member of the American Educational Research Association, the European Association for Research on Learning and Instruction, and the International Society for the Learning Sciences. She earned a B.S. and M.S. from SUNY Stony Brook and completed a second M.S. as well as a Ph.D. at Vanderbilt University.