Honoree
Shirley S. Abrahamson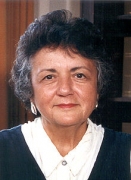 AWARDS
Distinguished Alumni Service Award (2013)
Honorary Degree (1986)

LL.D.
Doctor of Laws
Law School Addition and Renovation
Location: Bloomington
Presenter: John W. Ryan

Maurer School of Law Academy of Law Alumni Fellows (1985)

Indiana University Bloomington
J.D. 1956

BIOGRAPHY
Shirley Abrahamson is a legal pioneer, currently acting as the Chief Justice of the Wisconsin Supreme Court. She attended Indiana Law in the 1950s, a time when law school was still a male domain. The New York City native graduated first in her class, was a member of Order of the Coif, and served as articles and book review editor of Indiana Law Journal. After working in private practice in Madison, Wisconsin, for 14 years and serving as a professor at the University of Wisconsin Law School, she was appointed to the Wisconsin Supreme Court in 1976 and named Chief Justice in 1996 - the first woman to have served in either role.
A tireless advocate for new federalism, stressing the importance of state constitutional law as the basis for protecting individual rights against state government, she also is a promoter of judicial independence.
She earned an A.B. magna cum laude from New York University in 1953, a J.D. with high distinction from Indiana University Law School in 1956, and an S.J.D. in American legal history from the University of Wisconsin Law School in 1962. Abrahamson was elected to the Maurer School of Law Academy of Law Alumni Fellows in 1985. She is a recipient of the John Marshall Award from the American Bar Association.