Honoree
David E. Greene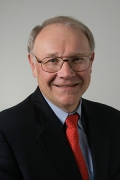 AWARDS
Presidents Circle Laurel Pin (2013)

Benefactor

BIOGRAPHY
David E. Greene earned his B.S. in Business from the School of Business in Bloomington in 1971. For his scores on the Uniform CPA Exam he received the Elijah Watt Sells Award and Indiana Gold Medal. While a student he was involved with Phi Kappa Psi Fraternity, the IU Student Foundation, Beta Alpha Psi Honor Fraternity for Accounting, and the Union Board. Greene furthered his studies and earned his J.D. from the School of Law in 1974.
Greene began his career as a manager of Price Waterhouse in in 1973. He then became PepsiCo's Director of Tax Planning in 1979, but transitioned in 1981 to Phelps Dodge Corporation where he was Vice President of Tax and Financial Analysis. His career continued to rise where in 1985 he became the Executive Vice President and Chief Financial Officer of Young & Rubicam. Since 1997, he has served as a Clinical Professor of Accounting at the Kelley School of Business in Bloomington. From 2001-2006, he was Chairman of Systems and Accounting Graduate Programs at the Kelley School of Business.
Greene was Chairman of the Indiana CPA Society in 2005 and recipient of the organization's Outstanding Educator Award the same year. In 2005, he was also a Member of Council for the American Institute of Certified Public Accountants. At IU, he has re-engaged with schools he attended as a student. From 1997-2000 he served as Treasurer and Member of the Kelley School of Business Alumni Association Board of Directors. Since 2005, he has been a member of the Maurer School of Law Board of Visitors. He was awarded in 2006 with the National Outstanding Faculty Advisor by the Beta Alpha Psi fraternity.