Honoree
Murray Robinson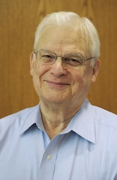 AWARDS
Presidents Circle Laurel Pin (2013)

Benefactor

BIOGRAPHY
Frederic Murray Robinson earned both his B.S. in Business and M.B.A through the IU Bloomington School of Business in 1955 and 1957 respectively.
Murray is retired president and CEO of Delta & Pine Land Company in Scott, Mississippi. He joined D&PL, a commercial breeder, producer, and marketer of cotton planting seed, in 1988 and served as President and CEO since 1989 growing the company until his planned retirement in 2000. He held many executive positions prior to his time at D&PL including at ACCO Seed Division, Mississippi Seed, Inc., Pfizer Genetics, Inc., and Hanes Corporation. Robinson served 13 years on the Board of Trustees for the St. Andrew's-Sewanee School with eight of them as president and vice president. For his leadership and exemplary support, he was awarded the St. Andrew's-Sewanee Service Award.
Robinson is a generous supporter to the arts at Indiana University. Robinson is a past treasurer for the Jacobs School of Music Friends of Music Board of Directors. In 2017, Robinson and his wife established the Murray and Sue Robinson Ballet Scholarship in Honor of Violette Verdy. In the same year they established a scholarship for the Department of Theatre, Drama, and Contemporary Dance and the Murray and Sue Robinson Wells Library and Wylie House Scholarship for IU libraries. They have also supported productions and other scholarships across the Bloomington campus. The Robinsons serve on the IU Libraries's Dean's Advisory Board.
In 2013, IU Foundation presented Robinson with the Presidents Circle Laurel Pin in gratitude of his generous support to the university.