Honoree
Jonathan Banks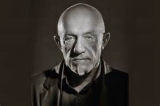 AWARDS
Bicentennial Medal (2019)
Honorary Degree (2016)

LH.D.
Doctor of Humane Letters
IU Bloomington Honors Convocation
Location: Bloomington
Presenter: Michael A. McRobbie

BIOGRAPHY
Emmy-nominated actor and Indiana University alumnus Jonathan Banks, best known for his portrayal of Mike Ehrmantraut on the award-winning drama "Breaking Bad," is a journeyman actor with more than 70 television shows and more than 50 movies to his credit. He has been nominated three times for an Emmy: for "Wiseguy" in 1989, "Breaking Bad" in 2013 and "Better Call Saul" in 2015.
Banks has strong family ties to IU and to the state of Indiana. His mother, Elena Adams Banks, earned a bachelor's degree in business from IU in 1945 and was a professor at Indiana State University in Terre Haute. His daughter, Ruth Garcia Novoseletsky, is a 2004 IU graduate of the College of Arts and Sciences in Spanish, and another daughter, Rebecca, graduated in 2016 from The Media School.
His grandfather, Henry Sherman Adams, was a Monroe County farmer and stonecutter who helped lay the foundation of Franklin Hall, future home of The Media School. Banks has maintained his connection with the university through frequent visits to campus. Although he grew up in Washington, D.C., he returned to his mother's home state, Indiana, in the late 1960s to study theater. He appeared in "Threepenny Opera" with Academy Award winner Kevin Kline, BA'70, and performed at the Brown County Playhouse. Before he could graduate, however, obligations to his young family compelled him to leave IU and embark on a career.
Banks' first job was as the stage manager of "Hair." In 1974, he moved to Los Angeles and worked his way up from smaller TV acting roles to in-demand movie and television star. His film credits include "Airplane!," "48 Hours" and "Beverly Hills Cop." In time, his work gained broad acclaim.
In addition to his Emmy nominations, Banks won the 2013 Saturn Award for best supporting actor on TV for "Breaking Bad," which also earned him Screen Actors Guild Award and Online Film and Television Association nominations; and he won the 2015 Critics' Choice TV Award for best supporting actor in a drama series for "Better Call Saul."
In 2016 IU awarded Banks with an honorary Doctor of Humane Letters at the Bloomington campus spring Honors convocation for his outstanding achievement in the arts and humanities, and for his community engagement and public service.