Honoree
Irene Lilly McCutchen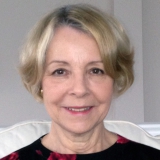 AWARDS
IUPUI Spirit of Philanthropy Award (2016)
Presidents Circle Laurel Pin (2016)

Benefactor

BIOGRAPHY
The McCutchens make philanthropy a part of their daily lives through their volunteer work and generous giving and have long been active in many nonprofit and charitable organizations. Both are volunteers in higher education: Irene serves on the Lilly Family School of Philanthropy's Board of Visitors and Bill co-chairs a campaign for Duke Divinity School.
A generous lead gift from the McCutchens to the Lilly Family School of Philanthropy was instrumental in establishing an endowed deanship honoring the school's founding dean. In addition to helping the school attract outstanding deans, the gift makes it possible for the school's dean to nimbly and creatively respond to challenges, take advantage of opportunities and fulfill the school's mission. The gift was made through the Ruth Lilly Philanthropic Fund.
"Renie's thoughtful and enthusiastic leadership on our board and Renie and Bill's generous support are helping to ensure that our work will have an enduring impact," said Amir Pasic, the Eugene R. Tempel Dean of the school. "We thank them for all that they do for our school, and we are pleased to honor their deep commitment to strengthening philanthropy and to engaging future generations in making a difference in the lives of others."
Irene earned her bachelor's degree at Duke University and is a life-long civic leader. An Indiana University alumnus, Bill earned a Ph.D. at the Kelley School of Business in Bloomington. He is a former professor of management at the Zicklin School of Business, Baruch College, City University of New York, and previously was a senior executive at Eli Lilly and Company.