Honoree
Bill Cook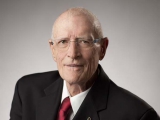 AWARDS
President's Medal for Excellence (2010)

Bill Cook Lecture
Location: Bloomington
Presenter: Michael A. McRobbie

Bill Orwig Award (2007)
IU Southeast Chancellor's Medallion (2000)

IU Southeast Chancellor's Medallion
Location: New Albany
Presenter: F.C. Richardson

Partners in Philanthropy (2000)

Herman B Wells Visionary Award

Honorary Degree (1993)

LL.D.
Doctor of Laws
Commencement
Location: Bloomington
Presenter: Thomas Ehrlich

BIOGRAPHY
A In 1963 William A. Cook began Cook, Inc., in his family apartment in Bloomington. He combined the biological knowledge gained at Northwestern University with his U.S. Army training in operating room technology and his experience in a Chicago medical company, and he applied them to the creation of innovative, life-saving devices. n international leader in the manufacture of medical equipment, William Cook is also a leader in his own community. As the founder and president of Cook, Inc., one of the largest medical device companies in the world, Mr. Cook oversaw facilities in the United States, Australia, Denmark, and Canada.
Today, Cook subsidiaries produce such necessities as heart catheters, needles, urological supplies, medical pipettes, and heart pacemakers. Many physicians have praised Mr. Cook's ingenuity and his ability to provide practical solutions to medical problems. Mr. Cook has increased opportunities for personal and physical development with his generous support of local organizations, ranging from the Monroe County YMCA to Better Living for Special People to an award-winning drum and bugle corps, the Star of Indiana.
In partnership with his wife, Gayle Cook, Bill Cook has been instrumental in the preservation of many treasured historic sites, in Bloomington and elsewhere in the state. Bloomington's Courthouse Square owes much of its picturesque beauty to the efforts of the Cooks.
Indiana University has also benefited from Mr. Cook's generosity. He has endowed a scholarship in the Wells Scholars Program and given substantial research funding to the College of Arts and Sciences and the Schools of Business, Education, Medicine, and Music. He provided new band uniforms for IU's "Marching Hundred" and donated the lights at Memorial Stadium.
Mr. Cook has received numerous awards for his service to his fellow citizens, including an honorary Doctorate of Engineering from Rose-Hulman Institute of Technology in 1992.
He died in April 2011.