Honoree
Stephanie K. Brater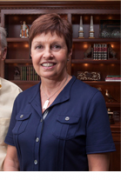 AWARDS
Presidents Circle Laurel Pin (2016)

Benefactor

BIOGRAPHY
As Stephanie Brater sees it, she's a small-town girl from Ponca City, Okla., who's had remarkable opportunities to make a difference. Over the past decade, Brater, who is married to IU School of Medicine Dean D. Craig Brater, has focused her volunteer efforts on women's and children's health, especially among vulnerable populations.
St. Margaret's Hospital Guild. One of Brater's longtime passions is the St. Margaret's Hospital Guild, a century-old organization whose events benefit Wishard Hospital and its patients. "I always heard good things about St. Margaret's," she recalls. "I knew 100 percent of their profits went to Wishard, and that made a difference." Wishard facilities are staffed with IU School of Medicine physicians.
A longtime "Maggie" -- as St. Margaret's volunteers are called -- Brater has played many roles. This year she helped secure the historic Tobias House as the site for St. Margaret's annual Decorators' Show House event, where over 50 area designers and landscapers converged to refurbish the property's three acres of gardens and its 40-room, 20,000-square-foot interior. The house will be open to the public April 28 to May 13. Find details at the Show House website.
"It can be a challenge to find an appropriate house each year," Brater says. As a goodwill advisor for the Tobias House, which is owned by the Indiana University Foundation, Brater was able to connect the right people from both organizations. "I saw it as a win-win situation in terms of getting the house updated and raising funds for Wishard Hospital.
"I am always in awe of what wonderful works a group of dedicated, hard-working people can accomplish," she says.
She especially enjoys the hands-on volunteerism. "I like working in Maggie's Café, the restaurant part of the Decorators' Show House. I suppose that's because I worked as a waitress at times while putting myself through college."
Good works in Kenya. Another passion of Brater's is AMPATH, a partnership formed in 1989 between IU School of Medicine and Moi University's small teaching hospital in Eldoret, Kenya. Through AMPATH, or Academic Model Providing Access to Healthcare, IU physicians and medical students have helped provide health services, conduct health research and train physicians -- from the U.S. and Kenya -- to be leaders in health care.
Both Stephanie and Craig Brater have devoted considerable time working in and around the hospital in Moi, with Stephanie directing her energy to the Sally Test Pediatric Center there. In recognition of the Braters' dedication to AMPATH, the Lilly Endowment recently funded the Stephanie and Craig Brater Chair in Global Health.
At the moment, Brater is looking forward to the Decorators' Show House event. In the future, she sees herself continuing to volunteer in the Indianapolis community and in support of the IU School of Medicine. And she will continue her works in Kenya. "Craig is retiring in the summer of 2013, and we hope to spend more time there."
Personal gifts. The couple's volunteerism has personal effects, too. "Craig and I have two unofficially adopted Kenyan sons, one of whom just had a baby about a week ago." Stephanie met brothers Michael and Marcel when she and her daughter Aimee were working at a school in Kenya. When Michael was 10 years old, Brater says, "his mother asked me if I would bring him to the U.S. for college."
Michael lived with the Braters for nine years while earning degrees in information technology and public health at Indiana University-Purdue University Indianapolis. His brother Marcel followed suit and is currently studying public health at Columbia University. "Both boys want to return to Africa to do good works and give back." Brater adds, "I get so much more out of these relationships than I could ever give."
Brater's view of philanthropy is straightforward. "I recently heard (IU first lady) Laurie McRobbie speak on the topic, and she summed it up beautifully: It is not just about giving monetarily. It is also about giving your time and talents."