Honoree
Virginia E. Cozad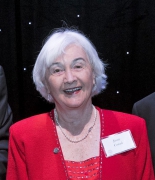 AWARDS
Presidents Circle Laurel Pin (2016)

Benefactor

BIOGRAPHY
Virginia "Jinny" Cozad's late husband, Jim, was the retired chairman and CEO of the Whitman Corporation, a Pepsi bottler that merged with PepsiAmericas in 2000 and took the Pepsi name. He was also the chairman emeritus of Lyric Opera of Chicago. A proud alumnus, he and Jinny have given back to IU. The Cozads made a gift to IU and established the James W. and Virginia E. Cozad Chair in Finance at the Kelley School of Business, IU Bloomington, in 1998. In gratitude, the IU Foundation presented Jinny with the Presidents Circle Laurel Pin in 2016.
Outside of IU, they also endowed the Virginia & James Cozad Chair of Hematology/Oncology at Evanston Northwestern Healthcare in 2006 in recognition of the care Ginny received as a patient. The Cozads have also given trough their foundation.
Jinny and James have many children and grandchildren that have received degrees from Indiana University.