Honoree
Kenneth L. Nunn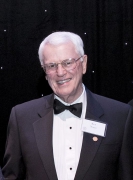 AWARDS
Presidents Circle Laurel Pin (2016)

Benefactor

BIOGRAPHY
Kenneth "Ken" Nunn is a two-time graduate of Indiana University. He earned his B.S. in Business from the School of Business in 1964 and his J.D. from the School of Law in 1967.
For over four decades, Nunn has been building a history and reputation for helping injured clients throughout the state of Indiana through his law office. He attributes his firm's growth to client satisfaction and quality relationships, and has grown to more than 70 legal professionals located throughout the state. Nunn has received many national recognition awards and has been published in four books featured on Amazon.com's Best Seller lists. His law office has obtained many multi-million dollar recoveries in personal injury and wrongful death cases.
Nunn gives back to his alma mater in many ways. He has supported local students seeking financial aid at the IU Maurer School of Law to complete their education through the Ken Nunn Law Office Scholarship. For IU, Nunn has strongly supported IU athletics and has been a donor since 1976. An avid fan, he has almost never missed a men's basketball game. He contributed to the renovation of Simon Skojdt Assembly Hall, by adding 350 new railings, to make the facility a safer space for all. Nunn's philanthropy extends to several organizations including the Boys and Girls Club, Bloomington Police Department, and the Red Cross.