Honoree
Sally Savage Rudolph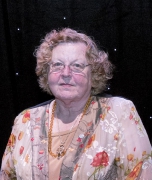 AWARDS
Presidents Circle Laurel Pin (2016)

Benefactor

BIOGRAPHY
Sara Jane "Sally" Rudolph is proud of her southern Indiana roots. Hailing from Perry County, Indiana, she went on to earn her bachelor's from Indiana State University in 1964 and completed her master's in education from Indiana University in 1974.
Rudolph spent 30 years working for the State of Indiana in various positions including jobs in counseling, training, and management. She also started a mail-order business selling artwork and briefly owned Rudolf's, an art gallery in Broad Ripple area of Indianapolis, with her late husband, Don. The gallery displayed her photography and artwork from the Herron School of Art & Design students. She also served as adjunct faculty at Vincennes University and designed her own line of jewelry.
Sally and Don were high school sweethearts from Perry County. In 2007, their affinity for the area led the couple to fund the Sally Savage Rudolph and Donald A. Rudolph Scholarship to provide undergraduate support to students from the county. However, together they aimed to change that and find away to support those in need. Sally enjoys connecting with the recipients of the scholarship at the annual scholarship luncheon where she gets to hear the students' stories. Rudolph's philanthropy has also established an archaeology field study scholarship at IU Bloomington in honor of her late sister, Suzanne. Rudolph was welcomed to the Presidents Circle at the Benefactor level in gratitude for her generosity to student support.