Honoree
Janet S. Smith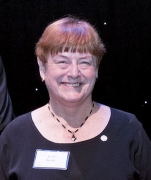 AWARDS
Bicentennial Medal (2019)
Presidents Circle Laurel Pin (2016)

Benefactor

BIOGRAPHY
Over the years, Janet S. Smith's generosity has powerfully impacted women at Indiana University as well as strengthen academic and athletic programs. An alumna, she received her B.A. in English in 1967 from the College of Arts and Sciences.
Smith has been a longtime attendee of the Colloquium for Women of Indiana University, and her involvement with the biennial gather for women leaders has given her opportunities to connect people, concepts, and ideas that have produced positive results for all involved. As founder of the Little 500 Colloquium Scholarship for Women, Janet has unified alumnae and friends who support a scholarship honoring a group of female Little 500 riders. The young women chosen for this scholarship are recognized for their academic, athletic, and community leadership. Janet was also the spark behind a new collaborative program between Women's Philanthropy at IU and the IU Alumni Association. Women Helping Women honors outstanding students at the regional campuses who make a positive difference in their communities through their volunteer work. Smith has provided effective outreach and led the grant-making process for the Women's Philanthropy Leadership Council's grants to ensure that the organization reaches maximum impact for IU students, the IU community, state, and world. Her support has also established an endowed chair in the College of Arts and Sciences and other programs and initiatives including the International Harp Competition and Well House Society among other designations.
IU Foundation welcomed her to the Presidents Circle at the Benefactor Level in 2016. In 2019, Janet received Indiana University's Bicentennial Medal in recognition of her distinguished service in support of the university.