Honoree
Bruce Bergland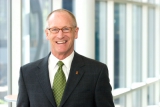 AWARDS
Bicentennial Medal (2019)
President's Medal for Excellence (2010)

Retirement Celebration
Location: Gary
Presenter: Michael A. McRobbie

IU Foundation President's Medallion (2010)
BIOGRAPHY
Bruce Bergland received his undergraduate degree from Iowa State University and went on to earn his doctorate in counseling from Stanford University. He was 24 years old at the time, making him one of Stanford's youngest PhDs. His first professorship was at Northwestern University where he served as an assistant professor of education and psychology. From there, he took up a series of academic and administrative positions at the University of Colorado at Denver; at the University of Hawaii-West Oahu campus; and finally at Trinity College of Vermont with responsibilities including strategic planning, academic affairs, day-to-day administration, and serving as special advisor to chancellors and presidents.
Bergland moved from Trinity to assume the chancellorship of the IU Northwest campus in 1999. He was the 11th chief administrator of the campus, and his 11 years in office mark the longest single tenure of any IU Northwest chancellor. Bergland helped strengthen the campus/community connection in countless ways; he also maintained a strong focus on improving the campus in ways that create opportunities for students, faculty, staff, and community members alike.
The Dunes Medical/Professional Building, a 124,000-square-foot facility, was completed in 2005 and houses state-of-the-art science laboratories, the Health Clinic, the Dental Clinic, the IU School of Medicine-Northwest, and much of the College of Health and Human Services. That college was established in 2007 and is also testimony to Bruce's dedication to IU Northwest students and the Region. It not only provides high quality interdisciplinary education to students, but it fulfills an urgent need for highly-skilled health professionals in the community. Since the devastating flood of the Little Calumet River in 2008, Bergland has been instrumental in securing legislative approval for a $33 million appropriation to replace Tamarack Hall, which was damaged by the flood. In 2009, the School of Business and Economics, also located in the Dunes Building, reclaimed its Association to Advance Collegiate Schools of Business accreditation, making it the only business school in northwest Indiana to hold that accreditation.
Before retiring in 2010, on behalf of Indiana Governor Mitch Daniels, McRobbie presented Bergland with two prestigious state honors: the Distinguished Hoosier Award and the Sagamore of the Wabash, two of the highest designations that any Indiana resident may receive. Bergland was also honored as a recipient of the President's Medal of Excellence at that time.
Bergland received the IU Bicentennial Medal in September 2019 in recognition of his service as the eleventh chancellor of Indiana University Northwest.