Honoree
Luis Niño de Rivera Lajous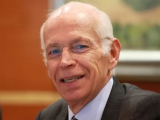 AWARDS
Thomas Hart Benton Mural Medallion (2018)

IU Gateway Opening Reception
Location: Mexico City
Presenter: Michael McRobbie

BIOGRAPHY
Luis Niño de Rivera Lajous was elected president of the Association of Mexican Banks in 2019, appointed vice chairman of Banco Azteca SA in 2015, and has been the official spokesperson for Grupo Salinas since 2002. Working in the financial service sector for the past 45 years, he founded Banco Azteca Mexico in 2002, and has held high level positions as president and CEO of Banco Azteca, Dresdner Bank Mexico, Citibank Panama, Arrendadora Financiera Mexicana, and Factoring Corporativo.
Niño de Rivera Lajous is a board member of the Club de Banqueros in Mexico, the Mexico Private Equity Fund, and the International Committee of the IU Foundation. He served as vice chairman of the Association of Mexican Banks from 2015 to 2017, as a COO of Banca Confía, as a member of senior management in corporate banking in Citibank Mexico, and as an account officer for Citibank's World Corporation Group in New York. He served as chairman of Afore Allianz-Dresdner, CFO of Fondo Nacional de Habitaciones Populares, and was a partner in the Booz, Allen, and Hamilton consulting firm in New York and D.C. He has been the vice president of the Association of Mexican Banks five times.
Niño de Rivera Lajouse received a B.S. in business administration from IU and an M.A. in international business and international politics from New York University. He participated in the 1964 (Tokyo) and the 1968 (Mexico) Summer Olympics as a diver representing Mexico. He has been a sports commentator for diving meets and diving events during the Olympics. He was also a "steers slayer" or bullfighter in Mexico for a short time in 1972-1973, and commentates bullfighting events on the television program "Mexico Bravo."