Honoree
Eugene Glick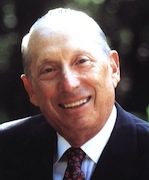 AWARDS
President's Medal for Excellence (2008)

Groundbreaking for Glick Eye Institute
Location: Indianapolis
Presenter: Michael A. McRobbie

IUPUI Spirit of Philanthropy Award (2008)
Partners in Philanthropy (2001)

Herman B Wells Visionary Award

Kelley School of Business Distinguished Entrepreneur (1984)

Indiana University Bloomington
Kelley School of Business
B.S., 1942

BIOGRAPHY
Born in 1921, Eugene Glick showed early entrepreneurial instincts as an advertising salesman on the Daily Echo at Shortridge High School and later as the operator of a charter bus service at Indiana University, where he earned his Bachelor of Science from the School of Business. Glick served in World War II immediately after the Normandy Invasion, moving with the army to free France and destroy Nazi power. Returning to Indianapolis after the war, Glick developed the GI loan program for a downtown bank, where he realized he wanted to spend the rest of his life building homes for families.
He and Marilyn married in 1947, and that year they started Indianapolis Homes, a builder of affordable homes. They built four houses the first year and went on to build hundreds more, customizing them with their own formulas for comfort and decorative details. Indianapolis Homes evolved into the Gene B. Glick Company, one of the country's leading apartment developers and operators. The company has built more than 30,000 residential units and now manages more than 17,000 units in 10 states. Glick's emphasis on business integrity, sound management, scrupulous property supervision, and excellence in all aspects of business has won him numerous awards. He is a member of the National Housing Hall of Fame and is a Central Indiana Hall of Fame Laureate. He holds an honorary Doctorate of Law Degree from Butler University and was recently chosen as an Indiana Living Legend by the Indiana Historical Society.
During the groundbreaking ceremony for the Click Eye Institute in 2008, President McRobbie honored Marilyn and Eugene as recipients of the President's Medal for Excellence; recognizing the Glick Family Foundation's wonderful and generous gift of $30 million, which enabled IU to build the Eugene and Marilyn Glick Eye Institute.
Mr. Glick died in 2013.