Honoree
Carol Anne Murdoch-Kinch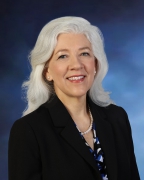 AWARDS
Bicentennial Medal (2019)
BIOGRAPHY
Carol Anne Murdoch-Kinch is dean and professor of dentistry in the Indiana University School of Dentistry. She earned her bachelor's degree from the University of New Brunswick, DDS from Dalhousie University, clinical certificate in dental diagnostic sciences and Ph.D. from Indiana University School of Dentistry. Before returning to IU, Murdoch-Kinch served as the associate dean for academic affairs and Dr. Walter H. Swartz Professor of Integrated Special Care Dentistry at the University of Michigan School of Dentistry, and clinical professor of oral and maxillofacial surgery/hospital dentistry.
Murdoch-Kinch's research has included multidisciplinary clinical research in oncology; the development of dental curriculum, dental school climate, and engagement of learning.
Murdoch-Kinch received the IU Bicentennial Medal in August 2019 in recognition of her distinguished service as dean of the Indiana University School of Dentistry.