Honoree
Peg Faimon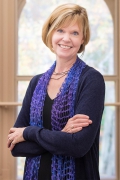 AWARDS
Bicentennial Medal (2019)
BIOGRAPHY
Peg Faimon is a professor and the founding dean in the Eskenazi School of Art, Architecture + Design in the College of Arts and Sciences at Indiana University Bloomington. Faimon earned a BFA from Indiana University Bloomington and MFA from Yale University, earning the Norman Ives Memorial Award. Before returning to IU, she served on the faculty as a professor of graphic design at Miami University in the Department of Art. While at Miami, Faimon served as the department chair, was the co-director of the Armstrong Institute for Interactive Media Studies, founding director of the Miami Design Collaborative (MDC), and lead faculty of the Graphic Design program.
Faimon has maintained a design consultancy, Peg Faimon Design, and has received national and international recognition for her design work. She is the author or co-author of several books on design and was named the Miami University School of Fine Arts Crossan Hayes Curry Distinguished Educator in 2000 and the Naus Family Faculty Scholar in 2008. She serves on the Executive Committee and Board of Directors of the National Association of Schools of Art & Design.
Faimon received the IU Bicentennial Medal in August 2019 in recognition of her distinguished service as Dean of the Eskenazi School of Art, Architecture + Design.