Honoree
Ray Wallace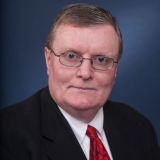 AWARDS
Bicentennial Medal (2019)
BIOGRAPHY
Ray Wallace is chancellor and professor of English at Indiana University Southeast. Born in Northern Ireland, he came to the U.S. to attend Eastern Illinois University in 1978, and, after completing his undergraduate and master of arts degree there, he went on to attain his Doctor of Arts in English at Illinois State University in 1985. Before coming to IU Southeast, he held faculty/administrative positions at the University of Hawaii at Hilo, the University of Tennessee-Knoxville, Kennesaw State University, Northwestern State University of Louisiana, Troy University, Clayton State University, and the University of Arkansas-Fort Smith.
Wallace served in several administrative roles which prepared him well for leadership of the IU-Southeast campus: as provost and senior vice chancellor, two deanships of Arts and Sciences Colleges, a directorship of a state's designated Honors College in the liberal arts and sciences, a division head, a director of writing, and as a university writing center director. In addition to numerous academic articles/book chapters and national and international conference presentations. Wallace has published five books, including two award-winning volumes on the teaching of writing. His post-doctoral work includes a Fulbright-Hayes funded research project to South Africa, work at Harvard in the Management and Leadership in Higher Education Program, and a Japan Foundation-funded research tour of Japanese universities and high schools.
Wallace received the IU Bicentennial Medal in August 2019 in recognition of his distinguished service as chancellor of Indiana University Southeast.