Honoree
Siân Mooney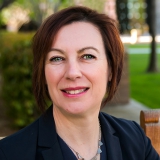 AWARDS
Bicentennial Medal (2019)
BIOGRAPHY
Siân Mooney is the dean and professor of public and environmental affairs in the Paul H. O'Neill School of Public and Environmental Affairs at Indiana University. She earned her B.Sc. in agricultural economics from the University of Wales-Aberystwyth, M.Sc. in agricultural economics and farm management from the University of Manitoba, and Ph.D. in agricultural and resource economics from Oregon State University. Prior to her arrival at IU in 2019, Mooney served as associate dean for interdisciplinary programs and initiatives for the College of Public Service and Community Solutions and professor in the School of Public Affairs at Arizona State University. She has held academic appointments at Montana State University, University of Wyoming, Boise State University, and the National Science Foundation.
Mooney's research interests lie in questions related to the use of natural resources and the environment. She is an economist that has worked for many years on topics related to water use in the western United States, endangered species and the impacts of climate change. Her scholarship has been published in the edited volumes and various scholarly journals.
Mooney received the IU Bicentennial Medal in August 2019 in recognition of her distinguished service as dean of the Paul H. O'Neill School of Public and Environmental Affairs.