Honoree
Tamara Davis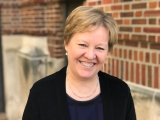 AWARDS
Bicentennial Medal (2019)
BIOGRAPHY
Tamara Davis is the dean and professor of social work in the Indiana University School of Social Work. Davis earned her B.S.W. and M.S.W. from the University of Louisville, and Ph.D. at the University of Texas, Austin. Her research interests include the disparities and inequities in mental health care for diverse and underserved populations, integrated health and behavioral health care, social work education, culturally relevant mental health services/systems, and innovations in mixed method research.
Prior to coming to Indiana University, Davis served as an associate professor of social work from 2005 to 2011 at the Ohio State University, College of Social Work. During her time at Ohio State she also served as the director of the Master of Social Work Program (2015-16), and associate dean for academic affairs in the College of Social Work (2016-18).
Davis received the IU Bicentennial Medal in August 2019 in recognition of her distinguished service as dean of the IU School of Social Work.