Honoree
Michael E. Uslan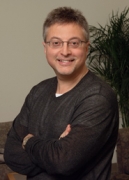 AWARDS
IU Foundation President's Medallion (2009)
President's Medal for Excellence (2006)

IUB Commencement
Location: Bloomington
Presenter: Adam Herbert

Maurer School of Law Academy of Law Alumni Fellows (2006)

J.D. 1976

Emmy Award (1995)

Outstanding Children's Animated Program
Performance: Carmen Sandiego

BIOGRAPHY
Michael E. Uslan, chief creative officer, producer and founding partner of Comic Book Movies, LLC, holds three degrees from IU. He has had an outstanding career in Hollywood spanning nearly 30 years.
He is well known in the film and comic book industries as executive producer of the "Batman" franchise films. He won a People's Choice Award in the "Favorite Motion Picture" category for Batman (Warner Bros. 1989), and an Emmy Award for "Best Animated Series" as executive producer of Where on Earth Is Carmen Sandiego?
Uslan co-founded Comic Book Movies, LLC in 2005 to produce movies with "A-list" directors, screenwriters and acting talent. The company is dedicated to building multi-media entertainment franchises by developing and producing intellectual properties in the world of international comics and "manga" (Japanese comics). The company has numerous partnerships with a number of high-profile comic book creators.