Honoree
MaryEllen K. Bishop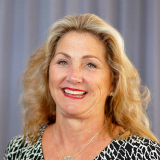 AWARDS
Bicentennial Medal (2019)
BIOGRAPHY
MaryEllen Bishop is an IU alumna and member of the IU Board of Trustees. Bishop earned a B.S. in marketing from IUB, and a J.D. from the McKinney School of Law at IUPUI. Bishop has been elected continuously by the alumni to serve on the IU Board of Trustees since 2010.
As an undergraduate, Bishop was a member of the Alpha Chi Omega Sorority. After completion of her degrees, Bishop joined Coopers & Lybrand as a tax associate (1983-1987) before becoming partner with her husband at Bishop & Bishop (1987-2007). In 2007, she became partner at Bose McKinney & Evans LLP. Bishop then joined the law firm Cohen Garelick & Glazier as a partner, serving as a board-certified trust and estate lawyer. She is admitted to practice law before the Indiana Supreme Court, both United States District Courts of Indiana, the United States Tax Court, and the United States Supreme Court.
Bishop's service to IU extends beyond the board of trustees and includes being a member of the board of managers and executive council of the IU Alumni Association, member of the board of visitors of the IU McKinney School of Law, a member of the board of visitors to the Lilly Family School of Philanthropy, and as the alumni representative to the Indiana University Athletics Committee and Athletic Director Search Committee in 2008. Additionally, she was co-chair of the Planned Giving Committee of the IU School of Medicine, member of the Indiana University Colloquium Planning Committee, member of the IU Women's Philanthropy Council, and chairperson of the IU Bicentennial Medal Committee.
Bishop has served two terms on the Indiana Probate Code Study Commission and is a fellow of the American College of Trust and Estate Council, a fellow of the Indiana State Bar Foundation, and a distinguished fellow of the Indianapolis Bar Foundation. She has served in various leadership positions within the Indiana State Bar Association and the Indianapolis Bar Association, and has provided pro bono contributions to the Kiwanis Club of Meridian Hills (Indianapolis) and as a member of the board of directors of the Visiting Nurse Association.
Bishop received the IU Bicentennial Medal in September 2019 in recognition of her distinguished service as a member of the IU Board of Trustees.