Honoree
Melanie S. Walker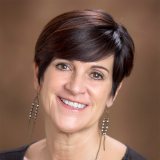 AWARDS
Bicentennial Medal (2019)
BIOGRAPHY
Business executive and civic leader Melanie Walker has served IU as a trustee since 2016. Walker earned an A.A.S. in retail marketing from Albany Business College, and B.S. in industrial and labor relations from Cornell University.
During her early career, Melanie Walker gained experience in the field of human resources in three very different organizations: Cornell University as an employee relations specialist, Mobil Oil and Chemical as a human resources specialist, and Schlegel Corporation as an employee relations manager. In 1990, she joined the Tsuchiya Company of Nagoya, Japan, working at their first North American subsidiary, TASUS Corporation, as a human resources manager before being promoted to human resource, legal, and finance manager. In 1994, at the age of 34, Walker broke the glass ceiling to become the first female president of a Japanese-owned manufacturing company in North America. In 2005, she was named CEO and president of the TASUS Corporation/Tsuchiya Group North America. During her twenty-three years as president, she established four Tsuchiya facilities throughout North America, including the Tsuchiya Group North America headquarters in Bloomington, IN.
In 2016, Walker was appointed as an Indiana University Trustee by Governor Mike Pence. Walker has also been a member of the IU Research and Patents Management Advisory Board, formed by President Myles Brand; the deans council at the IU School of Public and Environmental Affairs; the IU Manufacturing and Public Policy Steering Committee; and the steering committee of the Indiana University Women's Philanthropy Council.
She has been involved in a variety of professional and civic organizations including serving on the board of directors for the Indiana Economic Development Corporation, the Monroe County Community Foundation, and the Bloomington Chamber of Commerce. She has served as a member of the State of Indiana Workforce Innovation Council and was a State of Indiana Delegate to the White House Conference on Small Business.
Walker received the IU Bicentennial Medal in September 2019 in recognition of her distinguished service as a trustee on the IU Board of Trustees.