Honoree
Abbey R. Stemler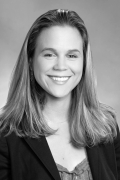 AWARDS
Bicentennial Medal (2019)
BIOGRAPHY
Abbie R. Stemler is an IU alumna, former student trustee on the IU Board of Trustees, and an associate professor of business law and ethics in the Kelley School of Business at IUB. Stemler earned her B.A. and certificate in the IUB LAMP program in 2008, M.B.A. from the Kelley School of Business IUB and J.D. from the IUB Maurer School of Law in 2011. Stemler's research focuses on regulatory complexities and possibilities of innovation including entrepreneurship law, business law, and critical thinking. She is a practicing attorney, consultant, entrepreneur, avid traveler and blogger.
During her undergraduate career, Stemler was a part of the Hutton Honors College, served as an usher at the IU Auditorium, and studied abroad in Australia. She was awarded the IU Hutton Honors College Lloyd G. and Mildred Balfour Scholarship for four consecutive years, the Clara Jovan Goodbody Award, the Palmer Brandon Prize, the Beryl Showers Holland Fellowship, and was named Phi Beta Kappa in 2007. In 2010, she received the John Edwards Fellowship in the Maurer School of Law, and became a member of the Order of the Coif in 2011.
After completing her graduate degrees, Stemler practiced law at Bose McKinney & Evans LLP in Indianapolis before establishing a private practice as an attorney in Bloomington in 2012. Stemler has also been an entrepreneur, founding and managing three small businesses in Bloomington between 2011 and 2016. In 2015, Stemler joined the faculty at the Kelley School of Business. Outside of the classroom, she continues to serve IU in a variety of capacities including as a member of the Bloomington Faculty Council, faculty coach in the Global Business Institute, and mentor in the CEWiT Emerging Scholars Research Experience for Undergraduate Women program.
Stemler received the IU Bicentennial Medal in September 2019 in recognition of her distinguished service as the eighteenth student trustee on the IU Board of Trustees.