Honoree
Andrew F. Mohr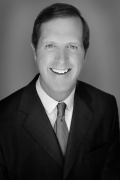 AWARDS
Bicentennial Medal (2019)
BIOGRAPHY
Andrew F. Mohr is an IU alumnus and former trustee on the IU Board of Trustees. Mohr earned a B.S. in public affairs from the School of Public and Environmental Affairs at IU Bloomington. In 2014, Mohr was appointed by Governor Mike Pence to the IU Board of Trustees for a single term.
After graduation from IUB, Mohr worked for a brief time in industrial sales in Cincinnati, OH. Returning to Indiana, Mohr worked in sales and finance jobs at local automotive dealerships, where he rose from a salesman to a finance manager to a sales manager. In 1991 he was hired as general manager of a struggling Chevy/Buick dealership in Greencastle, IN. Returning the dealership to profitability, he purchased the dealership in 1993. That year he founded Andy Mohr Automotive Group, which has become one of the largest automobile and truck dealership groups in Indiana. In 2015, he was named the Indiana TIME Dealer of the Year.
In 2012, IU Athletics announced it was officially naming its new softball facility Andy Mohr Field in honor of a major gift from Mohr, who has been a longtime supporter of the IU Varsity Club and of intercollegiate athletics at the university. He is a member of the 1820 Society and the President's Circle at the IU Foundation. He is a member of the United Way of Central Indiana's board of directors, and he chaired the capital campaign for the United Way of Central Indiana's 2013-2014 community campaign.
Mohr received the IU Bicentennial Medal in September 2019 in recognition of his distinguished service on the IU Board of Trustees.