Honoree
Ann W. Swedeen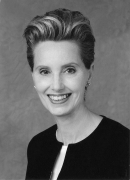 AWARDS
Bicentennial Medal (2019)
BIOGRAPHY
Ann Whitlock Swedeen is an IU alumna and former member of the IU Board of Trustees. Swedeen earned a B.A. in music education and M.A.T. in music and multiple arts from IU Bloomington. Swedeen continued her education earning an M.A. in student personnel administration and Ed.D. in educational administration in higher education from Ball State University.
During her undergraduate career at IUB, Swedeen was an active member of the Gamma Chi chapter of Alpha Chi Omega, was a member of the Singing Hoosiers, and the IU Student Foundation's Little 500 Committee. Swedeen's career has spanned a number of organizations in Indiana including: WIPB-TV as the director of public information; Ball State University as an assistant professor and academic advisor; the Ball Corporation as manager of corporate relations and speechwriter for the chairman of the board; Indiana Humanities Council as director for international affairs and programs; the Indiana State Museum Foundation as a major gifts officer; and Indiana Youth Institute Consulting Services as a management consultant.
Swedeen was elected to the IU Board of Trustees by IU alumni serving from 1986 to 1992 and again from 1994 to 1997. As a trustee, she served as chair of the IU External Relations Committee (1987-1992) and the IU Hospitals Advisory Committee (1994-1997). Swedeen has also served on the IU Foundation Board of Directors (1989-1992), the board of directors for the IU Advanced Research and Technology Corporation (1996-2004), the IU East Board of Advisors (1986-2004), and the Board of Visitors for the IU Center on Philanthropy (now the Lilly Family School of Philanthropy) (1989-2002).
Swedeen is an active member of the greater Indiana community serving in a number of capacities throughout the state. She served as the president of the Indianapolis Women's Club (2014-2015); board chair of the Indiana Youth Institute (2001-2004); board chair of the Indiana Council for Economic Education - Purdue University (2003-2004); board chair of the Muncie-Delaware County United Way (1995-1996); and board of directors for the Indiana Public Broadcasting Stations (1989-1991).
Swedeen received the IU Bicentennial Medal in September 2019 in recognition of her distinguished service as a member of the IU Board of Trustees.