Honoree
James W. Gray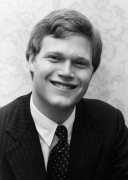 AWARDS
Bicentennial Medal (2019)
BIOGRAPHY
James W. Gray is an IU alumnus and former student trustee on the IU Board of Trustees. Gray earned a B.S. from IU Bloomington, and a J.D. from the McKinney School of Law at IUPUI. Gray was fourth student appointed a two-year term as the student trustee on the IU Board of Trustees from 1981 to 1983.
During Gray's undergraduate career, he served as vice president of the IU Student Association; vice president of Phi Kappa Psi, was a member of the Board of Aeons, Blue Key, and the Dean of Students Advisory Board. On the board of trustees, Gray was a member of the Student Affairs Committee and the Real Estate and Legal Committee. Upon completion of his law degree, Gary focused his practice of law in commercial real estate development, lending, and zoning.
Gary served three years as general counsel to Brian Properties, Inc., a Chicago area commercial real estate developer and property management firm. He then joined Duke Realty Corporation, a large real estate firm in Indianapolis, where he spent fifteen years and served as senior vice president and market officer in Cincinnati and Minneapolis/St. Paul. He spent a brief time as executive director for Christ Hospital in Ohio, before becoming the executive director of the Berkeley Student Cooperative (2013-2014). Gray joined Brandeis University as vice president of campus operations where he served from 2014 to 2019. In May 2019, Gray was appointed associated vice president for facilities and operations at Smith College.
Gray has a long history of community involvement, having served on the executive committee of the Minneapolis Regional Chamber of Commerce, the board of directors of the Minneapolis and Boston chapters of the real estate trade group NAIOP, the board and executive committee of Downtown Cincinnati, Inc., the board of directors of the historic Findlay Markey city market in Cincinnati, and the board of directors of real estate industry group CoreNet Global's New England Chapter, and as a member of the executive committee and board of the Harvard Square Business Association.
Gray received the IU Bicentennial Medal in September 2019 in recognition of his distinguished service as a student trustee on the IU Board of Trustees.