Honoree
Jamie B. Belanger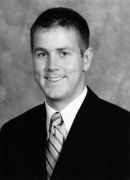 AWARDS
Bicentennial Medal (2019)
BIOGRAPHY
Jamie Belanger is an alumnus of IU Bloomington and former member of the IU Board of Trustees. Belanger earned a B.S. in business in 2000. He was the alumni-elected member of the Board of Trustee of Indiana University from 2002 to 2005.
During his undergraduate career, Belanger was treasure and president of Pi Kappa Phi fraternity, president of the Order of Omega Honorary Society, a member of the Blue Key Honor Society, and twice rode in the Little 500 bicycle race. After leaving IU, Belanger was a financial analyst and profit forecaster for North American Pet Health and Nutrition Sales and Marketing at Procter & Gamble, as well as a senior cost analyst for Folgers coffee and a senior financial analyst for Global Fabric Care, also with Procter & Gamble. In July 2007, Belanger went to work for LexisNexis, where he served as lead financial analyst, finance manager, director of financial planning and for research and litigation solutions, and director of finance. He is currently a senior director and the head of global reporting, planning, and analysis.
Belanger was elected to the Board of Trustees in 2002, becoming the youngest person ever elected to the board at the age of 24. He was also the first non-Indiana resident to serve on the board since the state legislators enacted a law in 1999 allowing alumni from outside the state to serve on the IU Board of Trustees. As a trustee, Belanger worked closely with President Myles Brand, and was able to relate first and foremost to the viewpoint of current students, keeping in mind the impact the Board of Trustees' decisions would have on them.
Belanger received the IU Bicentennial Medal in September 2019 in recognition of his distinguished service as a former member of the IU Board of Trustees.