Honoree
Rose E. Gallagher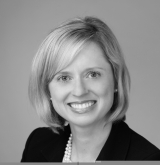 AWARDS
Bicentennial Medal (2019)
BIOGRAPHY
Rose E. Gallagher is an IU alumna and former member of the IU Board of Trustees. Gallagher earned a B.A. from IU Bloomginton and a J.D. from the Maurer School of Law at IUB. Gallagher was appointed as the student trustee by then Governor O'Bannon in 1997 becoming IU's twelfth student trustee.
While an undergraduate, Gallagher served as a member and secretary of the IU Student Foundation steering committee, a member of the Kappa Kappa Gamma sorority, and served on the Fraternity and Sorority Judicial Board. She received the Honors Division Senior Achievement, member of the Mortar Board Senior Honor Society, and Phi Beta Kappa. Upon graduation from the Maurer School, she joined the Indianapolis firm of Ice Miller, LLP. In 2003, she joined the Chicago law firm of Chapman and Cutler, where she made partner in 2008 and served as chair of the firm's employment committee from 2009 to 2011. She departed the firm in 2013 to pursue an MA from the University of Chicago's School of Social Service Administration. Upon graduation from the University of Chicago in 2016, Gallagher joined Ounce of Prevention Fund as a policy specialist.
Gallagher has served on the Maurer School of Law Alumni Board (2001-2007), and member-at-large on the Indiana University Alumni Association's Executive Council (2008-2011).
Gallagher received the IU Bicentennial Medal in September 2019 in recognition of her distinguished service as a trustee of Indiana University.