Honoree
Sacha I. Willsey Urban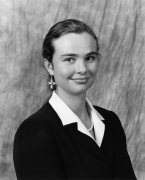 AWARDS
Bicentennial Medal (2019)
BIOGRAPHY
Sacha I. Willsey Urban is an IU alumna and a former student trustee on the IU Board of Trustees. Urban earned a B.A. and an M.P.A. from IU Bloomington. She was the fourteenth student appointed as a trustee of the university serving from 2001 to 2003.
During her undergraduate career, Urban was a member of the Theta Alpha Kappa National Honorary Society of Religious Studies and Theology, and a member of the Golden Key National Honor Society. Urban also received a baccalaureate in law and economics from Kantonsschule Zuercher Oberland in Wetzikon, Switzerland. Professionally, Urban has worked as a contract negotiator and principal contact with artist and illustrators for Sunrise Publications (1991-1994), has worked with Business Forms Plus in San Diego, CA., and with Bank Finalba AG in Zurich. She has also worked with the United Way of Central Indiana (2003-2004) as a major gift associate, and in 2014 accepted a position as manager of community giving at TriCity Family Services.
Urban received the IU Bicentennial Medal in September 2019 in recognition of her distinguished service as a student trustee on the IU Board of Trustees.