Honoree
Thomas R. Haley, III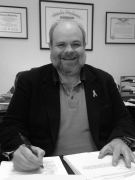 AWARDS
Bicentennial Medal (2019)
BIOGRAPHY
Thomas R. Haley III is an alumnus and former member of the IU Board of Trustees. Haley earned a bachelor's degree in journalism and history from IU Bloomington in 1984, followed by a law degree from the Indiana University School of Law at Indianapolis (later renamed the IU McKinney School of Law) in 1987. In 1985, Haley was appointed to a two-year term as the sixth student trustee of the Indiana University Board of Trustees.
During his undergraduate career Haley served as an orientation assistant, a senator in the Indiana University Student Association, member and chair of the Wilkie Residence Hall Judicial Board, staff advisor to the McNutt Residence Hall Judicial Board, a General Assembly student lobbyist, and a resident assistant in McNutt Quadrangle. He was elected to his hometown school board in Seymour, IN and served as a Congressional intern in Washington, D.C. for U.S. Representative Lee Hamilton.
While in law school, Haley clerked for a insurance defense law firm, served as a lobbyist and law clerk for the Hoosier State Press Association, and for two years was an associate editor for the Indiana Law Review. After graduation, Haley served two years as a judicial clerk for the Honorable James E. Noland, senior U.S. District Court judge for the Southern District of Indiana. Haley then began a private legal practice with an Indianapolis law firm in the areas of insurance defense and corporate/general business/labor law litigation. In 1995 he joined the Carmel, Indiana, firm now known as Jennings Wheeler & Haley.
Haley received the IU Bicentennial Medal in September 2019 in recognition of his distinguished service as the sixth student trustee of the IU Board of Trustees.