Honoree
William R. Cast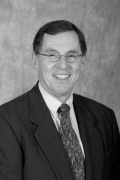 AWARDS
Bicentennial Medal (2019)
BIOGRAPHY
William R. Cast is an IU Bloomington alumnus and former member and chair of the IU Board of Trustees. Cast earned a B.A. from IUB and M.D. from the Indiana University School of Medicine with a specialization in otolaryngology. He was appointed to the board of trustees by then Governor Mitch Daniels in 2004, and served as chair of the board from 2009 to 2013, before retiring from the board in 2014. Cast also served as on the board of Indiana University Health until 2015 and the Indiana-Purdue Fort Wayne Foundation.
During his undergraduate career in Bloomington, Cast was a member of the Board of Aeons, IU Student Foundation, Blue Key, Skull and Crescent, Student Senate, and the Sigma Nu fraternity. Upon completion of his M.D., he interned at Methodist Hospital in Indianapolis, completed a four-year residency in otolaryngology at IU medical school, and then served two years in the Army stationed at Fort Jackson in South Carolina. Cast served as the chief of eye, ear, nose, and throat (ENT) during his Army career.
Cast returned to Indiana in 1969, moving to Fort Wayne, IN., where he practiced as a ENT physician for forty years. Throughout his career he also served in a variety of capacities including as chairman of the board of DuPont Hospital, president of the Fort Wayne Medical Society, and founding president of Tri-State Medical Independent Practice Association. Since 2005, Cast worked at NoMoreClipboard, a digital personal health records company that is a division of Medical Informatics Engineering, Inc. in Fort Wayne, where he became chief medical officer in 2006. He has served on the board of the American Academy of Otolaryngology, Washington, D.C., and also as an examiner for ENT board certification. As of 2017, he has been serving as president of Reduxx Pharmaceutical, LLC.
Cast received the IU Bicentennial Medal in September 2019 in recognition of his distinguished service as a member and chair of the IU Board of Trustees.