Honoree
Bobby Knight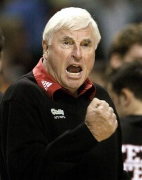 AWARDS
IUB Athletics Hall of Fame (2009)
Bill Orwig Award (1991)
President's Medal for Excellence (1987)

Luncheon
Location: Bloomington
Presenter: John W. Ryan

Olympians (1984)

Men's Basketball
United States of America
Location: Los Angeles
Event: Head Coach
Finish: Gold Medalist

BIOGRAPHY
Knight was born in Massillon, Ohio and grew up in Orrville, Ohio. Knight began his career as a player at Orrville High School. He continued under Basketball Hall of Fame coach Fred Taylor at Ohio State University in 1958. He was a reserve forward on the Buckeyes' 1960 national championship team, which featured future Hall of Fame players John Havlicek and Jerry Lucas. Knight graduated with a degree in history and government in 1962. After graduation in 1962, Knight coached junior varsity basketball at Cuyahoga Falls High School in Ohio for one year. Knight then enlisted in the U.S. Army and accepted an assistant coaching position at Army in 1963, where, two years later, he was named the head coach at the relatively young age of 24. In six seasons at West Point, Knight won 102 games.
When Indiana University was seeking a new coach in 1971, they turned to Knight. Indiana reached the Final Four in 1973, losing to UCLA. In 1975, the Hoosiers were undefeated and the number one team in the nation, when leading scorer Scott May suffered a broken arm in a win over arch-rival Purdue. Indiana subsequently lost 92 - 90 to Kentucky in the regional finals of the NCAA tournament, with May playing with a heavily-braced arm. In 1976, the Hoosiers were undefeated at 32 - 0 and won the championship, beating Michigan 86 - 68 in the title game. Knight's Hoosiers also won championships in 1981, with future NBA and Hall of Fame point guard Isiah Thomas, beating North Carolina 63 - 50; and in 1987 with guard Steve Alford, beating Syracuse 74 - 73 on a last-second shot by Keith Smart. Indiana won the 1979 NIT championship, and Knight led the U.S. national team to a gold medal in the Olympic Games as coach of the Michael Jordan-led 1984 team (coaches do not receive medals in the Olympics). He also won 11 Big Ten Conference titles. Knight is one of only three coaches to win NCAA, NIT, and Olympic championships, joining Dean Smith of North Carolina, and Pete Newell of California. Knight is the only coach to win the NCAA, the NIT, the Olympic Gold and the Pan-Am Gold. The Indiana Hoosiers were undefeated in Big Ten Conference play from 1974 to 1976, and lost only one game during the period (the aforementioned regional final against Kentucky).
Amidst allegations of violence and breach of contract, IU President Myles Brand asked Knight to resign on September 10, 2000. When Knight refused, however, Brand relieved him of his coaching duties effective immediately. On September 13, Knight said goodbye to a crowd of some 6,000 supporters in Dunn Meadow at Indiana University. Knight's firing made national headlines including the cover of Sports Illustrated and around the clock coverage on ESPN. It was also mentioned on major news programs such as CBS News and CNN.
After taking the next season off, Knight accepted the head coaching job at Texas Tech. Knight quickly improved the program, which had not been to an NCAA tournament since 1996. He led the Red Raiders to postseason appearances in each of his first four years at the school (three NCAA Championship tournaments and one NIT). After a rough 2006 season, the team improved in 2007, finishing 21 - 13 and again making it to the NCAA Championship tournament, where it lost to Boston College in the first round. The best performance by the Red Raiders under Knight came in 2005 when they advanced as far as the Sweet Sixteen. In both 2006 and 2007 under Knight, Texas Tech defeated two Top 10-ranked teams in consecutive weeks. During Knight's first six years at Texas Tech, the Red Raiders won 126 games, an average of 21 wins per season. On February 4, 2008, Bob Knight retired as head coach of the Texas Tech Red Raiders. His son Pat Knight, the head coach designate since 2005, was immediately named as his successor. The younger Knight stated that, after many years of coaching, his father was exhausted and ready to retire.